Personalised planispheres
Rob Walrecht Productions not only has the most extensive planisphere programme in the world, with:
planispheres in 17 languages and
English planispheres for ten different latitude zones, together covering the entire populated world.
We are also specialised in customised planispheres: containing
your name, logo and information
, and in the size, colours and shape you prefer. Please scroll down for examples of customised planispheres.
Here
is a video showing the possibilities and workings of our Planispheres.
Planispheres in 17 languages now!
We have so far (September 2019) designed and produced planispheres in 17 languages! See
this page
for more information, all the languages involved and what you need for making a translation for a planisphere in
your language
!
Prices
If you are interested, please let us know:
info@walrecht.nl.
We will then send you the price information and everything else you may need.
Advantage of numbers
Due to the high starting costs for the printing companies involved the minimum number we can normally offer is 500. Or 2 x 250, for both parts of the planispheres are printed in pairs.
Sometimes it is possible to combine two different orders for 250, 500, 1000 or more - as long as the versions are similar with respect to colours, size and shape. Therefore, it is always good to ask us about possible opportunities of combining your Planisphere with another (see the next part for current opportunities).
Special Offers
Now and then we may have special offers of customised (by combine versions intelligently) and standard Pplanispheres and other products.
Why should you have your own customised planisphere?
See
this page
for information about that.
Examples
For examples of designs, to give you ideas of how you would like
your planisphere
, please see
this page
. Some of our latest designs are shown below.
New: Full Colour Planispheres
The latest development is the printing of the star chart and back side of planispheres in full colour. Use of colours offers tremendous advantages, like making the names of stars, constellations and objects better readable when using a red flashlight.
Below you see some planispheres that were printed in full colour.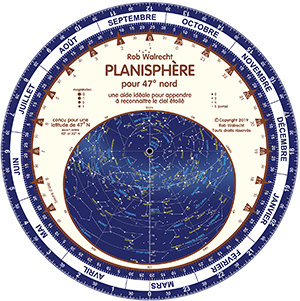 Left: our latest version of the Planisfeer for the Netherlands and Belgium (PLN-NL).
Right: the new French Planisphère.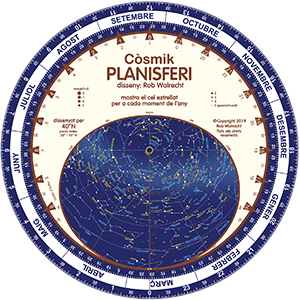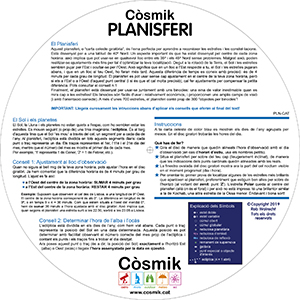 Above: the new Catalan planisferi, ordered by Cosmík in Barcelona and delivered in April 2019, with front and rear side.